Paragraphes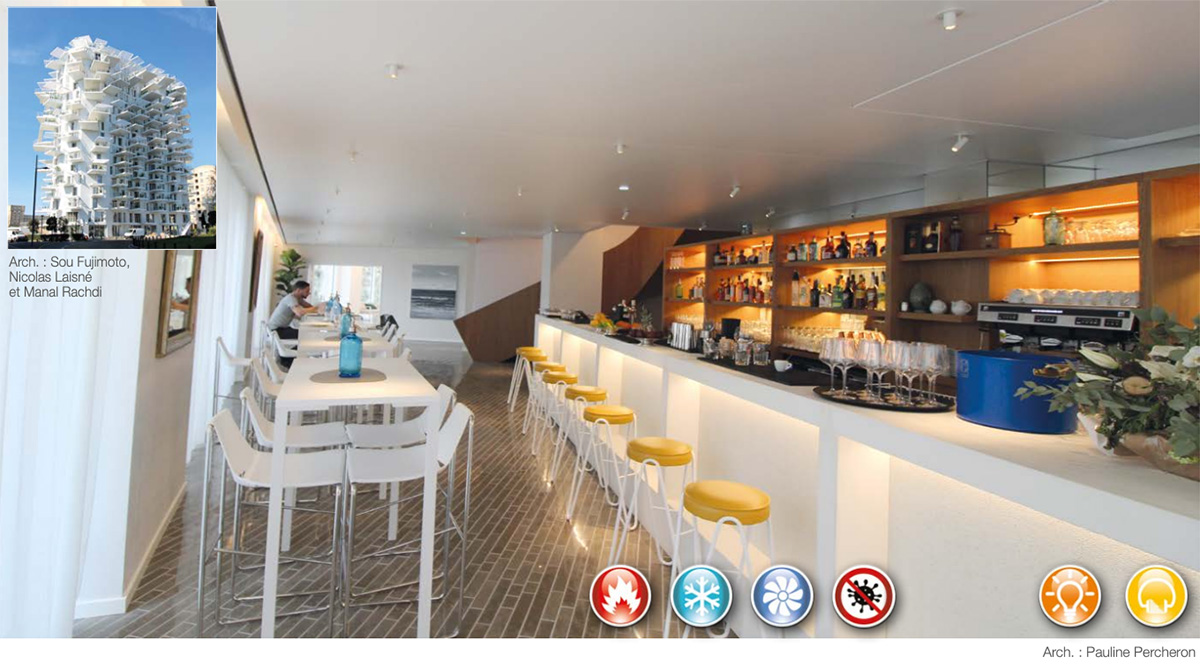 fond_blanc
0
Pure
C

li

m

® : Indoor air disinfection by UVC radiation
fond_blanc
0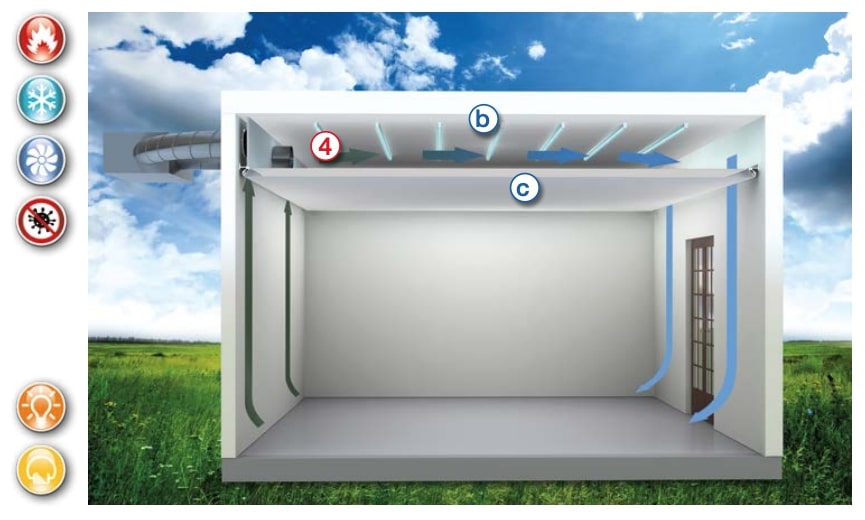 fond_blanc
0
Thanks to the installation of UVC light b sources directly in the plenum between the natural slab of the room and the Barrisol Biosourcée® sheet, the Barrisol Pure Clim® featuring Carrier® products system allows an unequalled air purification. Indeed, the sterilization by UVC radiation makes it possible to remove viruses and bacteria from the air by destroying their DNA structure.
The treated air 4 , injected in the plenum, is exposed to UVC radiation during all its journey inside the plenum, due to its important volume, the exposure time is particularly long and thus the disinfection is very effective.
The safety of the occupants is also ensured thanks to the use of 2 Barrisol sheets c especially conceived to create a barrier perfectly tight to the UVC, the UVC radiation cannot thus escape from the plenum and reach the interior volume of the served room.
fond_blanc
0
Less than 30 minutes of operation of the Pure Clim® system is enough to disinfect the air inside the room from 99.9% of viruses and bacteria.
fond_blanc
20
Technical and practical advantages of Barrisol Pure
C

li

m

® featuring CARRIER® products
fond_blanc
0
Unparalleled comfort for your well-being
Effective noise reduction

Sound Absorption
Very small temperature difference at any point of the room
Fast and responsive system to achieve the desired temperature

No draughts

Thermal comfort

Class A cold

and

Class A hot

according to ISO 7730(1)
Includes all technical features
Cooling

and

Heating

Ventilation

of premises
Acoustic and/or illuminated membrane
Possibility of sound broadcasting
Possible incorporation of any technical equipment
fond_blanc
0
Safety and health
Optimal air quality due to even distribution of recirculated air and fresh ventilation air
Avoids dead zones and point source airflow which can favour the transport and proliferation of viruses and and bacteria

UV air sterilisation solution

The membrane Barrisol

Biosourcée

® contains up to 30% of a plant-based plasticiser in its composition, which is classified

A+

(no emission of volatile toxic substances) and

B-s1, d0

(fire classification)
fond_blanc
0
Economic performance
Saving of energy consumption thanks to the thermal radiation of the

Biosourced membrane

®
Eco-responsible (less energy, less material)
Saves on fan consumption due to low air pressure drop
Combines aesthetics and flexibility
No unsightly technical elements visible
Frees up walls and spaces in living areas
Optimises plenum heights
fond_blanc
0
(1) up to 130 W/m2 according to tests carried out in the Jean Falconnier laboratory on the Carrier - Culoz site
fond_blanc
0